Toxicodendron Radicans, Poison-ivy, Rhus, Rus tox, Rhustox, Rustox, Rhus Toxicodendron, Rhus Toxicodedron, Rhus-t.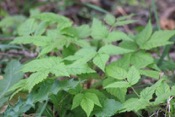 Have you ever used Rhus Tox? Yes No


Below are the main rubriks (i.e strongest indications or symptoms) of Rhus Tox in traditional homeopathic usage, not approved by the FDA.
ABDOMEN
Abdomen
Pressive drawing from below upward, in l. hypochondrium.
Soreness, as if beaten, in hypochondria, and still more in abdomen; agg. on side lain on when turning and when beginning to move.
Pressive heaviness in abdomen, from a weight.
Contractive spasms in abdomen, which force patient to remain bent double.
Hard and visible contraction of abdomen across navel; abdomen distended above and below this stripe.
(Pain in abdomen with tightness across forehead and sleeplessness.)
Violent and continuous pain round navel, caused by retching.
R. T. C.).
Digging turning in abdomen, as if caused by a worm.
Incisive tearings, jerks, and pinchings in the abdomen (esp. after eating; amel. after stool).
Pain in region of ascending colon.
Burning sensation in the abdomen.
Relaxation of the abdomen, with internal shaking at every step.
Sensation in abdomen as if something were torn away.
Scarlet colour of abdomen.
Soreness in integuments of abdomen, as if they were ulcerated, esp. on stretching in morning.
Swelling of inguinal glands.
Pressure in groins towards exterior as if a hernia were about to protrude.
Bloated abdomen, esp. after eating.
Beating and shooting in epigastric region.
Appetite
Insipid, clammy, acrid, bitter, sour, or metallic taste.
Sweetish taste in mouth.
Anorexia in palate and throat with empty feeling at stomach, and at same time ravenous hunger, which goes off after sitting for some time.
Sensation of fulness and satiety in stomach, which takes away all appetite.
Bread lies heavy on stomach.
Want of appetite with unquenchable thirst.
Hunger without appetite.
Pain and heat of head after drinking beer.
Thirst most frequently from a sensation of dryness in mouth, also at night or in morning, with desire chiefly for cold water and cold milk.
Craving for dainties; for oysters.
Eating
Distension of abdomen, esp. after a meal.
Violent colic, often at night, or agg. by all kinds of food or drink, sometimes with sanguineous evacuations.
Risings with taste of food.
Empty risings after a meal or after drinking.
Nausea and disposition to vomit, principally after a meal and after drinking, as also in night or morning after rising, amel. by lying down.
Pains in stomach as if there were a stone in it, esp. after a meal; and when standing.
Putrid taste, esp. in morning and after a meal.
Greasy taste in mouth but food tastes all right.
Taste as if stomach had been deranged with putrid meat, but food tastes right.
Bitter taste of food, esp. of bread, which appears rough and dry.
Anorexia with repugnance to all food, esp. bread, meat, coffee, and wine.
After a meal strong disposition to sleep, pressure and fulness in stomach and abdomen, nausea with inclination to vomit, lassitude, vertigo, and shuddering.
Flatus
Great flatulence, with grumbling, fermentation, and pinching movements in abdomen.
Exceedingly offensive flatus.
Nausea
Pain in stomach and nausea from drinking ice-water.
Vomiting
Vomiting immediately after eating.
When eating sudden vomiting.
Stomach
Eructations from stomach, which seems to be transferred to r. side of chest, as if it settled there.
Violent risings with tingling in stomach, amel. by lying down, agg. on getting up.
Pituita in the stomach.
Pressure at stomach and scrobiculus, often with obstructed respiration.
Squeezing, sensation of swelling, and pain as from ulceration in pit of stomach.
Sensation of coldness in stomach.
Sensation in pit of stomach as if something were torn away from it, esp. on stooping or making a false step.
≡ more ...