Toxicodendron Radicans, Poison-ivy, Rhus, Rus tox, Rhustox, Rustox, Rhus Toxicodendron, Rhus Toxicodedron, Rhus-t.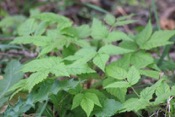 Have you ever used Rhus Tox? Yes No


Below are the main rubriks (i.e strongest indications or symptoms) of Rhus Tox in traditional homeopathic usage, not approved by the FDA.
ABDOMEN
Abdomen
Soreness, as if beaten, in hypochondria and still more in abdomen; worse on the side lain on, when turning and when beginning to move.
Abdomen bloated, especially after eating.
Colic, he must walk bent; worse at night; also after getting wet.
Typhlitis.
Sensation as if something was torn off in abdomen.
Visible contractions of abdomen above navel.
Nausea
Pain in stomach and nausea, after ice water.
Stomach
Stinging or pulsation in pit of stomach.
Fulness or heaviness, as from a stone in stomach; after eating.
Pressure in pit of stomach, as if swollen, or as if drawn together.
≡ more ...