Toxicodendron Radicans, Poison-ivy, Rhus, Rus tox, Rhustox, Rustox, Rhus Toxicodendron, Rhus Toxicodedron, Rhus-t.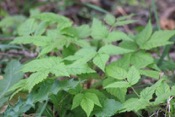 Below are the main rubriks (i.e strongest indications or symptoms) of Rhus Tox in traditional homeopathic usage, not approved by the FDA.


Have you ever used Rhus Tox? Yes No

BACK AND NECK
Back and neck
Painful swelling of axillary glands.
Rheumatic tearing between scapulae, not affected by movement, agg. by cold, amel. by heat.
Tearing between shoulders, drawing together from both sides.
Transient coldness in back.
Contusive pain in loins, esp. on touching the parts, and during repose.
Pain in small of back when sitting still or when lying; amel. when lying on something hard or from exercise.
Bruised pain in sacrum when he lies still on it or sits still; feels nothing of it when moving.
Painful rigidity in loins.
Painful exostosis on sacrum.
Distortion of the vertebral column.
Pains in loins, in back, and nape, as from lifting too great a weight.
Drawing and stitches in back, esp. when seated and on stooping.
Opisthotonos. 21. Limbs.
Swelling, stiffness, and paralysed sensations in joints, from sprains, over-lifting, or over-stretching.
Lameness, stiffness, and pain on first moving after rest, or on getting up in morning; amel. by constant motion.
Trembling or sensation of trembling in limbs.
The limbs on which he lies, esp. arms, go to sleep.
Rheumatic tension, drawing, tearing in limbs, during rest.
Excessively cold hands and feet all day.
Neck
Rheumatic stiffness of nape and neck, with painful tension during movement.
≡ more ...