Toxicodendron Radicans, Poison-ivy, Rhus, Rus tox, Rhustox, Rustox, Rhus Toxicodendron, Rhus Toxicodedron, Rhus-t.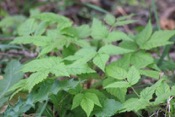 Below are the main rubriks (i.e strongest indications or symptoms) of Rhus Tox in traditional homeopathic usage, not approved by the FDA.


Have you ever used Rhus Tox? Yes No

BACK AND NECK
Back and neck
Pains in shoulders and back, with stiffness as from a sprain.
Curvature of the dorsal vertebrae.
Spinal membranes inflamed, even myelitis; from getting wet or sleeping on damp ground.
Pains in small of back, better lying upon something hard.
Lumbago.
Neck
Stiff neck, with painful tension when moving.
≡ more ...