Toxicodendron Radicans, Poison-ivy, Rhus, Rus tox, Rhustox, Rustox, Rhus Toxicodendron, Rhus Toxicodedron, Rhus-t.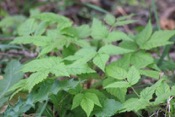 Have you ever used Rhus Tox? Yes No


Below are the main rubriks (i.e strongest indications or symptoms) of Rhus Tox in traditional homeopathic usage, not approved by the FDA.
CHEST
Chest
Heart; Hypertrophy from over exertion
Pulse quick, weak, irregular, intermittent, with numbness of left arm
Trembling and palpitation when sitting still.
Respiration
Tickling behind upper sternum
Dry, teasing cough from midnight until morning, During a chill, or when putting hands out of bed
Hemoptysis from over exertion; blood bright red
Influenza, with aching in all bones ( Eupatorium Perfoliatum per">Eup)
Perf.) Hoarseness from overstraining voice ( Arnica Arn.) Oppression of the chest, cannot get breath with sticking pains
Bronchial coughs in old people, worse on awaking and with expectoration of small plugs of mucus.
≡ more ...