Toxicodendron Radicans, Poison-ivy, Rhus, Rus tox, Rhustox, Rustox, Rhus Toxicodendron, Rhus Toxicodedron, Rhus-t.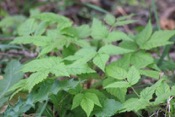 Have you ever used Rhus Tox? Yes No


Below are the main rubriks (i.e strongest indications or symptoms) of Rhus Tox in traditional homeopathic usage, not approved by the FDA.
CHEST
Chest
Anxious oppression of chest, even at night.
Nausea in chest; agg. stooping.
Frequent want to take a full inspiration.
Weakness in chest, which renders speech difficult after a walk in open air.
Sensation of constriction in chest.
Inflammation of lungs, also pneumonia nervosa.
Pleurodynia, chest pains shoot into shoulders (Rh. rad.).
Tingling in chest, with tension of muscles of chest, agg. by repose.
Rush of blood to chest.
Heart
Weakness and sensation of trembling in heart.
Violent palpitation of heart while sitting quietly.
Shootings in region of heart, with painful sensation of paralysis and numbness of l. arm.
Pulse rapid, small, compressible.
Pulse
Pulse irregular; generally accelerated but weak, soft; sometimes it cannot be felt or is intermittent.
Respiration
Difficult respiration after a moderate walk.
Respiration impeded by a pressure and squeezing in pit of stomach.
Shortness of breath in evening with tension in chest.
Shootings and lancinations in chest and sides of chest; esp. when sitting with body bent forwards, when speaking, when breathing deeply, when sneezing, seldom when walking or when using vigorous exertion.
Hoarseness and roughness of throat, with a sensation of rawness in chest.
Sensation of coldness in throat on taking an inspiration.
Tendency to be choked when swallowing.
Burning exhalation from larynx.
Sensation of constriction in throat-pit after a short walk.
Cough excited by a tickling in air-passages; generally short and dry, with anguish and shortness of breath, and principally in evening before midnight.
Dry, fatiguing cough.
Dry, teasing cough coming on just before the chill and continuing during the chill.
Cough with vomiting of food, esp. in evening, and when lying on back.
Cough after waking in morning.
During the cough gets a taste of blood in the mouth but does not cough up blood.
Short cough with bitter taste in mouth, in evening after lying down and in morning after waking.
Cough with stitches in chest and profuse general perspiration.
Whooping-cough; spasmodic, violent cough, caused by tickling in larynx and chest, with expectoration (except in evening) of acrid pus or greyish-green cold mucus of putrid smell; or of pale, clotted, at times brown blood.
Putting hand out of bed brings on a cough.
Cough with pain in stomach, or with shaking in chest and head.
Terrible cough which seems as if it would tear something out of chest.
Cough with expectoration of, a bright-red blood and sensation of faintness in chest.
≡ more ...