Toxicodendron Radicans, Poison-ivy, Rhus, Rus tox, Rhustox, Rustox, Rhus Toxicodendron, Rhus Toxicodedron, Rhus-t.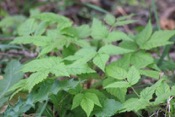 Below are the main rubriks (i.e strongest indications or symptoms) of Rhus Tox in traditional homeopathic usage, not approved by the FDA.


Have you ever used Rhus Tox? Yes No

CHEST
Lungs
Tingling in chest, with tension in intercostal muscles; worse at rest.
Haemoptysis from overexertion, blowing wind-instruments; blood bright; pain in lower part of chest; renewed from least mental excitement.
Respiration
Stitches in chest, worse when at rest, and while sneezing and breathing; also when sitting crooked.
Oppression as if the breath was stopped at tip of stomach; worse after a meal; anxious, as if not able to draw long breath.
Heart and pulse
Uncomplicated hypertrophy, from violent exercise.
Organic diseases of heart, with sticking pains and soreness; numbness and lameness of left arm.
Chest and heart feel weak after a walk; trembling sensation of the heart.
Palpitation violent when sitting still.
Pulse accelerated, weak, faint and soft; trembling or imperceptible; sometimes quicker than the heart's beat; irregular; affected by beer, coffee or alcohol.
≡ more ...