Toxicodendron Radicans, Poison-ivy, Rhus, Rus tox, Rhustox, Rustox, Rhus Toxicodendron, Rhus Toxicodedron, Rhus-t.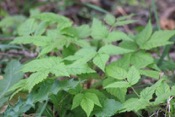 Have you ever used Rhus Tox? Yes No


Below are the main rubriks (i.e strongest indications or symptoms) of Rhus Tox in traditional homeopathic usage, not approved by the FDA.
COUGH
Cough
Influenzinum Influenza; air-passages seem stuffed up; dry, hard, tickling cough; worse each evening until 12 P.M.; stiffness in back and limbs.
Cough dry, teasing; caused by tickling in bronchia; uncovering, even a hand; with tearing pain in the chest, stitches, profuse sweat and pain in stomach; worse evening and before 12 P.M.; or in morning, soon after awaking; from talking, lying, or sitting still.
Sputa; acrid pus; greyish-green cold mucus, or putrid smell; pale, clotted or brown blood.
≡ more ...