Toxicodendron Radicans, Poison-ivy, Rhus, Rus tox, Rhustox, Rustox, Rhus Toxicodendron, Rhus Toxicodedron, Rhus-t.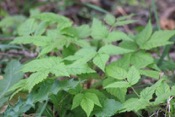 Have you ever used Rhus Tox? Yes No


Below are the main rubriks (i.e strongest indications or symptoms) of Rhus Tox in traditional homeopathic usage, not approved by the FDA.
EARS
Ears
Otalgia.
Painful throbbing in ear at night.
Swelling of ears.
Discharge of sanguineous pus from ears, with deafness.
Whistling, squeaking, or ringing in ears when walking, changes to low resonance when lying down, as if membrana tympani were burst.
Swelling and inflammation of parotids with fever.
Suppuration of parotids.
≡ more ...