Toxicodendron Radicans, Poison-ivy, Rhus, Rus tox, Rhustox, Rustox, Rhus Toxicodendron, Rhus Toxicodedron Rhus-t.
Available
in 4C-30C, 200C, 4X-30X, 1M-100M, 30C, 200CH from $6.59
Purchase options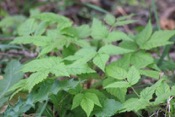 Below are the main rubriks (i.e strongest indications or symptoms) of Rhus Tox in traditional homeopathic usage, not approved by the FDA.
EARS
Ear
s Neuralgia in the ears; erysipelatous inflammation of the external ears with vesicles; inflammation of the parotid gland.
≡ more ...