Toxicodendron Radicans, Poison-ivy, Rhus, Rus tox, Rhustox, Rustox, Rhus Toxicodendron, Rhus Toxicodedron, Rhus-t.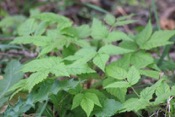 Have you ever used Rhus Tox? Yes No


Below are the main rubriks (i.e strongest indications or symptoms) of Rhus Tox in traditional homeopathic usage, not approved by the FDA.
EARS
Ear
s Neuralgia in the ears; erysipelatous inflammation of the external ears with vesicles; inflammation of the parotid gland.
≡ more ...