Toxicodendron Radicans, Poison-ivy, Rhus, Rus tox, Rhustox, Rustox, Rhus Toxicodendron, Rhus Toxicodedron, Rhus-t.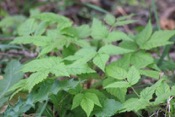 Have you ever used Rhus Tox? Yes No


Below are the main rubriks (i.e strongest indications or symptoms) of Rhus Tox in traditional homeopathic usage, not approved by the FDA.
EARS
Ear
Lobule of the left ear swollen (after thirty-six hours),
Earache,
A sudden drawing pain in the ears, as if a thread were being drawn through them,
(Itching crawling as from something alive in the ears; she was obliged to bore in with the finger),
Fine painful tearing behind the left ear,
Shooting inwards and throbbing behind left ear,
Painful throbbing within the ear at night,
Sensation as if something were blowing into the right ear, or stopped it up,
Ringing in the right ear, while walking (after one hour and a half),
Singing in the head like a locust; increased by cold air, disappears in the afternoon,
Twittering like young mice in the ears,
(Roaring in the ears),
Loud sound like that of a cascade in left ear, or like that of a heavy shower of rain striking on the ground (within an hour),
Two violent cracks in quick succession in the left ear, as if the drum burst, while lying asleep during the midday nap, so that he started up each time and trembled, but soon fell asleep again (after four hours),
≡ more ...