Toxicodendron Radicans, Poison-ivy, Rhus, Rus tox, Rhustox, Rustox, Rhus Toxicodendron, Rhus Toxicodedron, Rhus-t.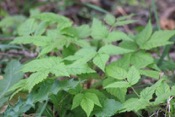 Below are the main rubriks (i.e strongest indications or symptoms) of Rhus Tox in traditional homeopathic usage, not approved by the FDA.


Have you ever used Rhus Tox? Yes No

EXTREMITIES, LIMBS
Extremities, limbs
Swelling and stiffness of joints from sprains, over lifting, or overstretching.
Phlegmonous erysipelas of limbs.
Rheumatoid pains in limbs; also with numbness and tingling; joints weak or stiff, or red shining swelling of joints, stitches when touched; worse on beginning to move; after 12 P.M., and in wet, damp weather or places; better from continued motion.
Tearing pains in limbs, during rest.
Upper extremities
Tearing and burning in shoulder, arm lame, worse in cold, wet weather, in bed at night and at rest.
Axillary glands suppurating.
Hot swelling of hands in evening.
Rhagades on back of hand.
Warts on hands.
Swelling of the fingers.
Hand-nails.
Lower extremities
Coxalgia; involuntary limping; pains felt mostly in knee and worse from overexertion; pain worse at night.
Spasmodic twitching in limbs when stepping out.
Sciatica, right side, dull, aching pain, worse at night, in cold or damp weather; relieved by rubbing, heat and when warmed by exercise; numbness and formications.
Paroxysmal pains in legs from getting wet, especially when warm and sweatly.
Cramps in legs and feet, must walk about.
Ulcers on legs, discharging profusely; on dropsical legs, discharging serum.
Swollen about ankles after too long sitting; feet swelling in evening.
Intolerable itching of legs and feet at night; old rash.
≡ more ...