Toxicodendron Radicans, Poison-ivy, Rhus, Rus tox, Rhustox, Rustox, Rhus Toxicodendron, Rhus Toxicodedron, Rhus-t.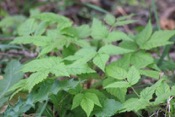 Have you ever used Rhus Tox? Yes No


Below are the main rubriks (i.e strongest indications or symptoms) of Rhus Tox in traditional homeopathic usage, not approved by the FDA.
EXTREMITIES, LIMBS
Extremities, limbs
Hot, painful swelling of joints
Pains tearing in tendons, ligaments, and fascia
Rheumatic pains spread over a large surface at nape of neck, loins, and extremities; better motion ( Agaricus Muscarius Agaric.) Soreness of condyles of bones
Limbs stiff, paralyzed
the cold fresh air is not tolerated; it makes the skin painful
Pain along ulnar nerve
Tearing down thighs
Sciatica; worse, cold, damp weather, at night
Numbness and formication, after overwork and exposure
Paralysis; trembling after exertion
Tenderness about knee-joint
Loss of power in forearm and fingers; crawling sensation in the tips of fingers
Tingling in feet.
≡ more ...