Toxicodendron Radicans, Poison-ivy, Rhus, Rus tox, Rhustox, Rustox, Rhus Toxicodendron, Rhus Toxicodedron, Rhus-t.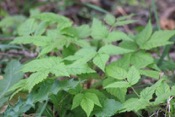 Have you ever used Rhus Tox? Yes No


Below are the main rubriks (i.e strongest indications or symptoms) of Rhus Tox in traditional homeopathic usage, not approved by the FDA.
EYES
Eyes
Swollen, red, edematous; Orbital cellulitis
pustular inflammations
Photophobia; profuse flow of yellow pus
Oedema of lids, suppurative iritis
Lids inflamed, agglutinated, swollen
Old injured eyes
Circumscribed corneal injection
Intensive ulceration of the cornea
Iritis, after exposure to cold and dampness, and of rheumatic origin
Eye painful on turning it or pressing, can hardly move it, as in acute retrobulbar neuritis
Profuse gush of hot, scalding tears upon opening lids.
≡ more ...