Toxicodendron Radicans, Poison-ivy, Rhus, Rus tox, Rhustox, Rustox, Rhus Toxicodendron, Rhus Toxicodedron, Rhus-t.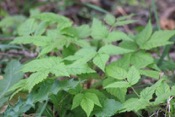 Below are the main rubriks (i.e strongest indications or symptoms) of Rhus Tox in traditional homeopathic usage, not approved by the FDA.


Have you ever used Rhus Tox? Yes No

EYES
Eyes
Pains in eyes on moving ball of eye.
Pressure and burning sensation in eyes.
Eyes fixed, dull, and downcast.
Smarting in eyes and lids.
Affections of internal surface of eyelids.
Inflammation of the eyes and lids, with redness and nocturnal agglutination.
Profuse lachrymation (eyes full of water, blear-eyedness) with oedematous swelling round eyes.
Meibomian glands enlarged, cilia fall out.
Photophobia.
Bladder-like swelling of the lids, closing the eyes.
Swelling (erysipelatous) of whole eye and of surrounding parts.
Rheumatic ophthalmia, particularly of r. eye.
Gouty keratitis, agg. in damp, rainy weather, sight dim.
Paralytic rigidity of the eyelids.
Jerking and quivering of eyes and eyelids.
Blue colour about the eyes.
Heaviness of the eyelids.
Styes; on the lower eyelids.
Veil before eyes and weak sight; all objects appear pale.
≡ more ...