Toxicodendron Radicans, Poison-ivy, Rhus, Rus tox, Rhustox, Rustox, Rhus Toxicodendron, Rhus Toxicodedron, Rhus-t.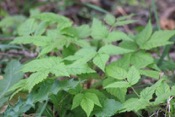 Below are the main rubriks (i.e strongest indications or symptoms) of Rhus Tox in traditional homeopathic usage, not approved by the FDA.


Have you ever used Rhus Tox? Yes No

EYES
Eyes
Great photophobia, profuse acrid lachrymation in morning and in open air; the cheek under the eye is dotted with red pimples; lids spasmodically closed.
Iritis in rheumatic or gouty subjects; suppurative or where the ciliary body and choroid are involved, especially if of traumatic origin.
Pustules and superficial ulcers on cornea, with great photophobia conjunctiva quite red, even to chemosis.
Sac-like swelling of conjunctiva, with yellow, purulent discharge.
Eyes red and agglutinated in morning.
Lids much swollen and inflamed.
Eyelids oedematous or erysipelatous, with scattered watery vesicles; meibomian glands enlarged, cilia fall out.
Ptosis, also, paralysis of any of the muscles of eyeball, from getting wet; in rheumatic patients.
≡ more ...