Toxicodendron Radicans, Poison-ivy, Rhus, Rus tox, Rhustox, Rustox, Rhus Toxicodendron, Rhus Toxicodedron Rhus-t.
Available
in 4C-30C, 200C, 4X-30X, 1M-100M, 30C, 200CH from $6.59
Purchase options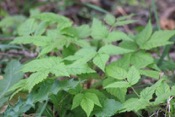 Below are the main rubriks (i.e strongest indications or symptoms) of Rhus Tox in traditional homeopathic usage, not approved by the FDA.
FACE
Face
Jaws crack when chewing
Easy dislocation of jaw ( Ignatia Ign.; Petroleum Petrol.) Swollen face, erysipelas
Cheek bones sensitive to touch
Parotitis
Facial neuralgia, with chilliness; worse, evening
Crusta lactea ( Calc Carb Calc.; Viol)
trich.)
≡ more ...