Toxicodendron Radicans, Poison-ivy, Rhus, Rus tox, Rhustox, Rustox, Rhus Toxicodendron, Rhus Toxicodedron, Rhus-t.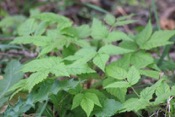 Below are the main rubriks (i.e strongest indications or symptoms) of Rhus Tox in traditional homeopathic usage, not approved by the FDA.


Have you ever used Rhus Tox? Yes No

FACE
Face
Face pale, sickly, wan, with eyes surrounded by a blue circle and nose pointed.
Drawing and burning in superciliary region and in cheek-bones.
Face disfigured and convulsed.
Face red, with burning heat.
Erysipelatous inflammation and swelling of face, with pressive and tensive shootings and burning tingling.
Vesicular erysipelas, with yellow serum in the vesicles.
Humid eruption and thick scabs on face, with running of fetid and sanguineous serum.
Acne.
(Acne rosacea; impetigo on the face or on forehead.).
Commissures of lips sore and ulcerated.
Herpetic, crusty eruption round mouth and nose, with itching, jerking, and burning sensation.
Exanthema on cheeks, chin, and around mouth.
Desquamation of skin of face.
Incisive contractions and burning spasmodic pains in cheeks (which are red and hot).
Cold sweat on face.
Eruptions of burning pimples round lips and chin.
Cramp-like pain in jaw-joint when at rest and when moving the jaw, with cracking on least movement, amel. by strong pressure from without and by taking warm things.
Spasms in the jaw.
Constant desire to yawn until it seems as though the jaw would break.
Hard and painful swelling (pressive digging) of the parotid and submaxillary glands (with sticking on swallowing).
Lips dry and brownish.
≡ more ...