Toxicodendron Radicans, Poison-ivy, Rhus, Rus tox, Rhustox, Rustox, Rhus Toxicodendron, Rhus Toxicodedron, Rhus-t.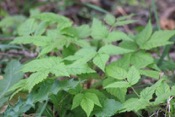 Below are the main rubriks (i.e strongest indications or symptoms) of Rhus Tox in traditional homeopathic usage, not approved by the FDA.


Have you ever used Rhus Tox? Yes No

FACE
Face
Fiery red; pale, sunken, nose pointed, blue around the eyes.
Erysipelas from left to right; face dark red, covered with yellow vesicles; burning, itching and tingling with the stinging.
Burning, drawing, tearing in face; teeth feel too long; restlessness.
Milk crust.
Acne rosacea.
Impetigo on face and forehead.
Lower face
Stiffness of jaws, cracking in articulation of jaw when moving it; jaw easily dislocated.
Corners of mouth ulcerated, fever-blisters around mouth; exanthema on chin.
≡ more ...