Toxicodendron Radicans, Poison-ivy, Rhus, Rus tox, Rhustox, Rustox, Rhus Toxicodendron, Rhus Toxicodedron Rhus-t.
Available
in 4C-30C, 200C, 4X-30X, 1M-100M, 30C, 200CH from $6.59
Purchase options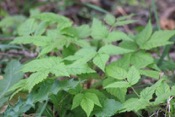 Below are the main rubriks (i.e strongest indications or symptoms) of Rhus Tox in traditional homeopathic usage, not approved by the FDA.
FEVER AND CHILL
Fever and chill
Adynamic; restless, trembling
Intermittent; chill, with dry cough and restlessness
During heat, urticaria
Hydroa
Chilly, as if cold water were poured over him, followed by heat and inclination to stretch the limbs.
≡ more ...