Toxicodendron Radicans, Poison-ivy, Rhus, Rus tox, Rhustox, Rustox, Rhus Toxicodendron, Rhus Toxicodedron, Rhus-t.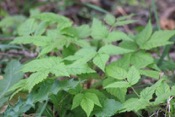 Have you ever used Rhus Tox? Yes No


Below are the main rubriks (i.e strongest indications or symptoms) of Rhus Tox in traditional homeopathic usage, not approved by the FDA.
FEVER AND CHILL
Fever
Shivering and coldness, generally in evening, and accompanied by paroxysms of pain, and other accessory symptoms.
External coldness along skin; coldness, but does not mind cold air.
Shivering and shaking in open air, with violent thirst.
Continual transient shiverings, as if cold water had been thrown over body.
Sensation of coldness on moving even but a little.
Chill in back and heat in anterior portion of body.
Coldness and paleness of face, alternately with heat and redness.
Shiverings and heat intermixed, either general and simultaneous (internal shivering with external heat, and vice versâ), or in different parts.
General heat, as if hot water were thrown over him, or as if the blood were flowing hot through the veins.
General perspiration, frequently already during the heat, and then often not in the face.
Fever in evening, first shivering, then heat and thirst, (and perspiration) accompanied or followed by cuttings and diarrhoea.
First headache (throbbing in temples); afterwards chilliness, with thirst and tearing pains in limbs as from fatigue; afterwards general warmth, with slight chills during motion and livid face; finally profuse, sour-smelling perspiration.
Tertian or quotidian fever.
Tertian fever with nettlerash, which disappears after the attack; during the apyrexia burning and redness in sclerotica.
Double tertian fever; first shivering and thirst, then general heat, with shivering on least movement, lastly perspiration.
During the shivering pain in limbs, headache, vertigo, pulsative toothache, accumulation of saliva in mouth, and inclination to vomit.
During nocturnal heat drawing in all limbs.
Transient heat with perspiration, commencing from umbilical region, and rapidly alternating with shiverings.
During or after the fever, jerks, tingling in ears, deafness, dry coryza, sleeplessness, with restless tossing, jaundice, and nettle-rash, pressure in pit of stomach, palpitation of heart with anxiety, colic, diarrhoea, and other gastric affections, and nocturnal thirst.
Malignant fever with loquacious delirium, violent pains in all limbs, excessive weakness, dry or black tongue, dry, brownish, or blackish lips, heat and redness in cheeks, carphologia, pulse quick and small, coma somnolentum, with snoring and moans.
Sweat during the pains.
Perspiration in general; with heat; offensive.
Perspiration when seated, often with violent trembling.
Nocturnal sweat, sometimes with miliary and itching eruption.
Sweat in morning, sometimes of an acid smell.
Sweats from warm drinks.
Constant perspiration.
≡ more ...