Toxicodendron Radicans, Poison-ivy, Rhus, Rus tox, Rhustox, Rustox, Rhus Toxicodendron, Rhus Toxicodedron, Rhus-t.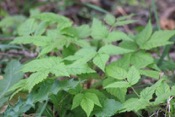 Below are the main rubriks (i.e strongest indications or symptoms) of Rhus Tox in traditional homeopathic usage, not approved by the FDA.


Have you ever used Rhus Tox? Yes No

GENERAL
General
Dry or coated tongue with a triangular red tip.
Great restlessness, cannot lie long in one position, changes often with temporary relief, tosses about continually.
Lameness and stiffness on beginning to move after rest; on getting up in the A. M. better by continued motion.
Erysipelas or scarlatina with vesicular eruption and characteristic restlessness.
Stupor and mild, persistent delirium; continually tossing about, with laborious dreams.
Modalities worse when quietly sitting or lying and on beginning to move; wet, cold weather. lifting or straining.
Muscular rheumatism, sciatica; left side (Col.).
Great sensitiveness to open air; putting the hand from under the bed cover brings on the cough (Bar., Hep.).
Back; pain between the shoulders on swallowing.
Cough during chill; dry, teasing, fatiguing, but urticaria over body during heat.
* * * * *
This is the third remedy of our so-called restless trio. This restlessness of Rhus is on account of the aching pain and soreness which is temporarily relieved by movement. There is also an internal uneasiness which is purely nervous, which causes the patient to want to be on the move, even when there is no particular pain present; but not nearly to the degree that we find it under Aconite Aconite and Arsenicum Album Arsenicum.
As in Bryonia Bryonia, so in Rhus, the leading characteristic is found in its modality. The aggravation on movement, in the former, is no less marked than th.
Rhus, Baptisia Tinctoria Baptisia and Arnica Arnica closely resemble each other; and choice is sometimes difficult; but we will try to differentiate them when we come to write upon the two latter.
Cough during chill in intermittents is a characteristic given us by Carroll Dunham, and is very reliable, as I have had occasion to prove.
Rhus acts particularly on fibrous, muscular and cellular tissues. The muscles are stiff and sore. This may be of a rheumatic character, or may have been induced by straining, by heavy lifting or severe muscular exercise of any kind, or it may have been brought on by exposure to cold, especially wet cold.
Rhus Tox strained condition may not be confined to the muscles alone, but may involve the tendons, ligaments and membranes of the joints. Several affections of the muscles of the back and even the spinal membranes (myelitis) may come on from sprain, or by exposure, by sleeping on damp ground, or in bed with damp sheets, or getting wet in a rain storm, especially while perspiring. Indeed Rhus is one of our best remedies in lumbago. But it makes no particular difference what muscles are strained or exposed so as to bring on this lameness and soreness the remedy is the same, and if the great characteristic -"Lameness and stiffness and pain on first moving after rest, or on getting up in the morning, relieved by continued motion," is present, Rhus is the first remedy to think of.
Rhus is also often a remedy for glandular swelling of parotid or submaxillary glands during scarlatina, cellulitis in diphtheria, or orbital cellulitis.
Rhus Tox is also one of our best remedies in skin diseases. No one who has been poisoned by it will doubt that Rhus has power to produce skin disease, and of course in accordance with our law of cure we would expect cures by it. We have not been disappointed. The eruption of Rhus poisoning is vesicular. Erysipelas of the vesicular variety, accompanied by the restlessness and sensorium of Rhus Tox, is quickly cured by it. So, also, is scarlatina. If we find the skin red, smooth and shiny, with high grade of fever and delirium Rhus would not do any good, but Belladonna Belladonna or some remedy having that kind of skin, etc.
Apis Mel Apis, Cantharis Cantharis, Lachesis Lachesis, Ailanthus Ailanthus and others have each their peculiar appearance of the skin in these acute exanthemata. Yet, notwithstanding this, it must be remembered that in many cases the leading indication for a remedy will not lie in the skin symptoms, but outside of them.
Rhus is no less valuable in chronic skin troubles than in acute. Eczemas of the vesicular type are often cured by it; there is much itching which is not greatly relieved by scratching. In all such cases of course the constitutional symptoms weigh as much as the local. So far as dose is concerned, I have used it both high and low, and find it useful all along the scale, but I have an M. M. potency made upon my own potentizer which has served me so well, and so many times, that I cannot refrain from speaking of it.