Toxicodendron Radicans, Poison-ivy, Rhus, Rus tox, Rhustox, Rustox, Rhus Toxicodendron, Rhus Toxicodedron, Rhus-t.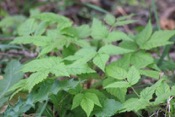 Have you ever used Rhus Tox? Yes No


Below are the main rubriks (i.e strongest indications or symptoms) of Rhus Tox in traditional homeopathic usage, not approved by the FDA.
GENERALITIES
Fatigue
Trembling of limbs after the least fatigue.
Great lassitude and weakness with want to lie down.
Sleep
Frequent, violent, and spasmodic yawnings.
Spasmodic yawning without inclination to sleep, and with stretching of limbs and pain as from dislocation of articulation of the jaw.
Yawning in general; with violent stretching of the limbs; falling asleep late; lying on the back during sleep.
Strong disposition to sleep during day, and also in morning in bed.
Somnolency, full of distressing and broken dreams.
Sleeplessness, esp. before midnight, generally caused by a sensation of heat, ebullition of blood, and uneasiness which does not permit patient to remain lying down.
Disturbed sleep, with anxious and frightful dreams.
Coma somnolentum, with snoring, murmurs, and carphology.
Sleep hindered by gloomy ideas.
Waking caused by bitterness and sensation of dryness in mouth.
Sleep at night hindered by a pressure at stomach, digging pinchings in abdomen, and nausea, with inclination to vomit.
Inability to remain lying on side at night.
Starts with fright and jerking of body during sleep.
Incomplete and agitated sleep, with tossing and many troublesome thoughts.
Vivid dreams of the business of the day, with talking during sleep.
Weeping while asleep.
Dreams of fire.
Sleep, with open mouth and short breathing.
Generalities
Epidemic diseases with oedema of fauces threatening oedema glottidis, vesicles stud pharynx and voice is hoarse; rawness and roughness of pharynx (Dunham).
Rheumatic and arthritic drawings, tension, and tearings in limbs, increased to the highest degree during repose, as well as in bad weather, at night, and in the heat of the bed, often with sensation of torpor and numbness in the part affected after moving it.
Cramp and tension in different parts as from contraction of tendons.
Contraction of some of the limbs.
Tensive shootings and stiffness in the joints, agg. on rising from a seat, and in open air.
Paralytic rigidity in limbs, esp. on beginning to move the part after repose.
Ready benumbing of parts on which patient reclines.
Torpor of some parts with tingling and insensibility.
Tingling in parts affected.
Wrenching pain in limbs.
Paralysis, sometimes semilateral.
Red and shining swellings, with shooting pain as from excoriation when touched.
Contusive, or else a sensation in some places as if the flesh were detached from the bones.
Pressive drawing in periosteum as if the bones were scraped.
Sensation in internal organs as if something were torn away.
Swelling and induration of glands.
Icterus.
Jerking in muscles and limbs.
Convulsive movements and other sufferings, resulting from a cold bath.
Semilateral affections.
agg. And appearance of pains and symptoms during repose or at night, as also on entering a room from the open air; amel. obtained by movement and walking.
The cold, fresh air is not tolerated; it seems to make the skin painful; (a keynote on rheumatism.)
Dunham).
Reproduction or agg. of many sufferings in unfavourable weather.
General excitability of nervous system, agg. by slightest indulgence of anger.
Drawings in all the limbs when lying down.
Unsteady gait.
Syncope.
Inability to bear the open air whether it is hot or cold; it makes a painful impression on the skin.
≡ more ...