Toxicodendron Radicans, Poison-ivy, Rhus, Rus tox, Rhustox, Rustox, Rhus Toxicodendron, Rhus Toxicodedron, Rhus-t.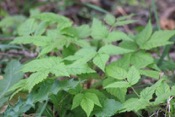 Have you ever used Rhus Tox? Yes No


Below are the main rubriks (i.e strongest indications or symptoms) of Rhus Tox in traditional homeopathic usage, not approved by the FDA.
GENERALITIES
Fatigue
Great debility, soreness and stiffness, worse on beginning to move; better from continuing motion, but soon fatigued, requiring rest again.
Before the chill dry cough; yawning; stretching; maxillary joint feels sprained.
Drowsy, weary, with yawning, 1 A.M., excessive heat without thirst.
Sleep
Spasmodic yawning, yet hot sleepy, with stitching and pain as from dislocation of jaw.
Great sleepiness and lassitude after eating.
Heavy sleep, as from stupor.
Sleeplessness from pain, more before 12 P.M., must turn often to find any ease.
When intoxicated by beer, sleeps with mouth open and head thrown back.
Dreams of great exertion; as rowing, swimming, etc.
Nausea and vomiting
Eructations with nausea; with tingling in stomach, worse when rising from lying.
Nausea after ice water, or after eating, with sudden vomiting; with inordinate appetite and inclination to vomit; worse at night and after eating.
Eating and drinking
After eating 11, 16, 17, 19, 26, 37. Drinking 40; ice water 16, 17; beer 3, 29, 37; coffee 29; alcohol 29.
Tissues
Rhus Tox acts on fibrous tissue.
Cellulitis.
Diseases of joints, stiffness; or when there are stitches in surrounding tendons, with tingling and burning.
Dropsy, with turbid urine.
Glands swollen and hot, painful; indurated; suppurating.
Pain as if the flesh was torn loose from the bones; or as if the bones were being scraped.
Inflammation and swelling of long bones.
Contact, Injuries, etc.
Touch 4, 34. Rubbing 33. Straining 23, 24, 25, 28, 34, 36.
Nerves
Hemiplegia, right-sided; sensation as if "gone to sleep".
Restlessness, must change position.
Temperature and weather
Warmth 3; of bed 4. Heat 10, 33. Cold 3, 10. Uncovering 27. Cold, open air 5, 46. Cold, wet weather 32, 33, 34. Getting wet or damp in cold places 3, 5, 19, 21, 23, 31, 33, 36, 46.
Chill, Fever and Sweat.
Constant chilliness, as if cold water was poured over him, or as if the blood was running cold through the veins, 7 P.M., feels cold when he moves.
Chills over the back, worse evenings; chill increased by drinking.
Chill, with pains in limbs, restlessness; pale face, or alternating pale and red face.
Heat after chill, with sweat which relieves.
General heat, as from hot water or hot blood running through veins.
General warmth with slight chills during motion; face livid.
During fever, nettle-rash; thirst, drinking little and often.
Evening fever, with diarrhoea.
Sweat with pains; often with violent trembling.
Sweat even during heat; except on face; with violent itching of the eruption; sour; musty, putrid; with thirst or thirstlessness.
Sides.
Right 5, 13, 33, 36, 40. Left 6, 29. Left to right 4, 8.
≡ more ...