Toxicodendron Radicans, Poison-ivy, Rhus, Rus tox, Rhustox, Rustox, Rhus Toxicodendron, Rhus Toxicodedron, Rhus-t.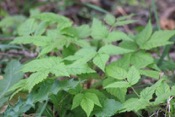 Below are the main rubriks (i.e strongest indications or symptoms) of Rhus Tox in traditional homeopathic usage, not approved by the FDA.


Have you ever used Rhus Tox? Yes No

GENITALS ETC
Male
Male; Swelling of glands and prepuce - dark-red erysipelatous; scrotum thick, swollen, Odematous
Female
Female; Swelling, with intense itching of vulva
Lochia thin, protracted, offensive diminished ( Pulsatilla Puls.; Secale Cornutum Secale), With shooting upwards in vagina ( Sepia Sep)
Genitals
itching intense.
Pelvic articulations stiff when beginning to move
Menses
Menses early, profuse, and prolonged, acrid
≡ more ...