Toxicodendron Radicans, Poison-ivy, Rhus, Rus tox, Rhustox, Rustox, Rhus Toxicodendron, Rhus Toxicodedron, Rhus-t.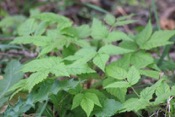 Below are the main rubriks (i.e strongest indications or symptoms) of Rhus Tox in traditional homeopathic usage, not approved by the FDA.


Have you ever used Rhus Tox? Yes No

GENITALS ETC
Urine
Retention of urine.
Frequent and urgent want to urinate, day and night, with profuse emission.
Incontinence of urine, esp. during repose (at night or when sitting).
Urine emitted in a divided stream.
Emission, drop by drop, of blood-red urine, with tenesmus.
Diminished emission of urine, although much drink may be taken.
Deep-coloured, irritating urine, which soon becomes turbid.
White, turbid urine.
Urine clear as water with a snow-white sediment.
Swelling of urethra.
Urethra
Profuse eruption on genital organs (closing the urethra by swelling).
Male
Inflammation of the glans.
Running vesicles on the glans.
Swelling of the glans and prepuce; prepuce dark red.
Red spots (blotches) on the interior of prepuce.
Swelling and thickening of scrotum (with intolerable itching).
Erysipelas of scrotum.
Scrotum flaccid and hanging low.
Moist eruption on scrotum.
Female
Menstrual flow light-coloured and acrid, causing biting pain in the vulva.
Soreness of vagina soon after (or hindering) coitus.
Menstrual discharge = violent pain in vulva.
Pain as from excoriation and shootings in vagina.
After labour, vitiated discharge from vagina, with shootings upward in the parts and a bursting sensation in the head.
Womb
(Uterine polypus with metrorrhagia.)
Discharge of blood and clots of blood from uterus, with labour-pains.
Genitals
Paraphimosis.
(Hydrocele; from over-lifting).
Frequent erections at night, with want to urinate.
Strong sexual desire in morning.
Erysipelatous inflammation of the external genitals.
Membranous dysmenorrhoea.
Menorrhagia from strains; from wetting.
Discharge of blood during pregnancy.
R. T. C.).
Bearing-down pain; when standing.
After-pains of too long duration, after severe labour, with much and excessive straining.
For weeks after delivery pain in r. limbs with numbness from hips to feet (varicose veins).
Abortion from strain.
Axillary abscess after delivery.
Breasts painfully distended, red in streaks, rheumatic state.
Amenorrhoea from getting wet; with milk in breasts.
Diminished secretion (or suppression) of milk; with burning over body.
Menses
Catamenia premature and too profuse.
Catamenia of too long duration.
≡ more ...