Toxicodendron Radicans, Poison-ivy, Rhus, Rus tox, Rhustox, Rustox, Rhus Toxicodendron, Rhus Toxicodedron, Rhus-t.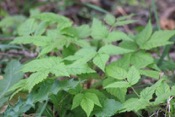 Have you ever used Rhus Tox? Yes No


Below are the main rubriks (i.e strongest indications or symptoms) of Rhus Tox in traditional homeopathic usage, not approved by the FDA.
GENITALS ETC
Urine
Tearing in region of kidneys, oedema; after exposure to wet.
Urine hot, white, muddy; pale, with white sediment; dark, becoming turbid.
Tenesmus vesicae, discharges a few drops of blood-red urine.
Retention of urine; backache, restless, cannot keep quiet.
Urine passed in a divided stream.
Frequent urging day and night, with increased secretion.
Urine diminished, though he drinks much.
Urine voided slowly, spine affected; from getting wet.
Urine involuntary at night and while at rest.
Male
Swelling of glands and prepuce, dark, red, erysipelatous.
Scrotum becomes thick and hard, with intolerable itching.
OEdema of scrotum.
Humid eruption on genitals and between scrotum and thighs.
Female
Menses too early, profuse and protracted; flow light-colored, acrid, causing biting pain in vulva.
Soreness in vagina hindering an embrace.
Genitals
Erections at night; or with desire to urinate.
Metrorrhagia; blood clotted, with labor-like pains.
Bearing down, when standing or walking, back aches, better lying on something hard; prolapsus from overexertion or straining.
External genitals inflamed, erysipelatous.
Pregnancy
During pregnancy; discharges of blood; pelvic articulations stiff when beginning to move.
Abortion impending from straining or overexertion.
Lochia vitiated and offensive, lasting too long or often returning.
Mammae swell from catching cold, streaks of inflammation; galactorrhoea; milk vanishes, with general heat; milk cakes; discharges clots of milk and pus.
≡ more ...