Toxicodendron Radicans, Poison-ivy, Rhus, Rus tox, Rhustox, Rustox, Rhus Toxicodendron, Rhus Toxicodedron, Rhus-t.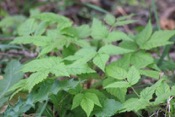 Have you ever used Rhus Tox? Yes No


Below are the main rubriks (i.e strongest indications or symptoms) of Rhus Tox in traditional homeopathic usage, not approved by the FDA.
HEAD
Head
Feels as if a board were strapped on the forehead
HEAVY head
Brain feels loose and as if struck against skull on walking or rising
Headache
Headache in occiput (Rhus Toxicodendron Rad.); painful to touch
Pain in forehead and proceeds thence backward
Scalp
Scalp sensitive; worse on side lain on
Humid eruptions on scalp; itching greatly.
≡ more ...