Toxicodendron Radicans, Poison-ivy, Rhus, Rus tox, Rhustox, Rustox, Rhus Toxicodendron, Rhus Toxicodedron, Rhus-t.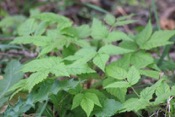 Have you ever used Rhus Tox? Yes No


Below are the main rubriks (i.e strongest indications or symptoms) of Rhus Tox in traditional homeopathic usage, not approved by the FDA.
HEAD
Headache
Stupefying headache, with buzzing; worse when sitting or lying; in the cold, in the morning, from beer; better from warmth and motion.
Headache, must lie down; returns from the least chagrin.
Scalp
Erysipelas of scalp, left to right, forming vesicles.
Eruption suppurating, moist, forming thick crusts, offensive, itching; worse at night; hair is eaten off; extends to shoulders.
Scalp sensitive, worse on side not lain on, when growing warm in bed, from touch and combing the hair back.
Inner head
Burning in forehead when walking.
Feeling as of a strapped board across the forehead.
Rush of blood to head, with humming, formication and throbbing; face glistening and red; restless, moving about.
Brain feels loose, when stepping or shaking the head.
Stitches extending two ears, root of nose and malar bones, with toothache.
Aching in occipital protuberance. (See end of 48.).
≡ more ...