Toxicodendron Radicans, Poison-ivy, Rhus, Rus tox, Rhustox, Rustox, Rhus Toxicodendron, Rhus Toxicodedron, Rhus-t.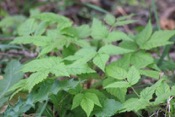 Have you ever used Rhus Tox? Yes No


Below are the main rubriks (i.e strongest indications or symptoms) of Rhus Tox in traditional homeopathic usage, not approved by the FDA.
HEAD
Headache
The headaches are commonly such as occur in fevers, in rheumatism, and in inflammation of the bladder.
Scalp
aches are worse from wetting the hair. Vesicular eruptions upon the scalp; erysipelas of the scalp with large blisters; eruptions upon the scalp that suppurate. It is a very useful remedy in the treatment of eczema of the scalp in infants; herpetic eruptions upon the scalp.
≡ more ...