Toxicodendron Radicans, Poison-ivy, Rhus, Rus tox, Rhustox, Rustox, Rhus Toxicodendron, Rhus Toxicodedron, Rhus-t.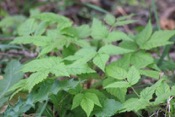 Below are the main rubriks (i.e strongest indications or symptoms) of Rhus Tox in traditional homeopathic usage, not approved by the FDA.


Have you ever used Rhus Tox? Yes No

MIND
Mind
Stupefaction, with tingling in head and pains in limbs, better in motion.
Absence of mind; forgetful; difficult comprehension; cannot remember the most recent events.
Incoherent talking; answers hastily or reluctantly, thought seems difficult; answers correctly but slowly; cannot hold mind on one subject long enough to answer.
Low, mild delirium, he is roaming over fields, or hard at work.
Low-spirited, with prostration; inclination to weep, especially in the evening with desire for solitude.
Fears he will be poisoned.
Anxiety, timidity; worse at twilight; restless change of place; wants to go from bed to bed.
Satiety of life, with fear of death.
Thoughts of suicide; wants to drown himself.
≡ more ...