Toxicodendron Radicans, Poison-ivy, Rhus, Rus tox, Rhustox, Rustox, Rhus Toxicodendron, Rhus Toxicodedron Rhus-t.
Available
in 4C-30C, 200C, 4X-30X, 1M-100M, 30C, 200CH from $6.59
Purchase options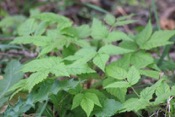 Below are the main rubriks (i.e strongest indications or symptoms) of Rhus Tox in traditional homeopathic usage, not approved by the FDA.
MODALITIES ETC
Worse
WORSE, during sleep, cold, wet rainy weather and after rain; at night, During rest, drenching, when lying on back or right side.
Better
BETTER, warm, dry weather, motion; walking, change of position, rubbing, warm applications, from stretching out limbs.