Toxicodendron Radicans, Poison-ivy, Rhus, Rus tox, Rhustox, Rustox, Rhus Toxicodendron, Rhus Toxicodedron Rhus-t.
Available
in 4C-30C, 200C, 4X-30X, 1M-100M, 30C, 200CH from $6.59
Purchase options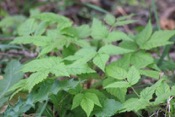 Below are the main rubriks (i.e strongest indications or symptoms) of Rhus Tox in traditional homeopathic usage, not approved by the FDA.
MOUTH
Mouth
Corners of mouth ulcerated; fever-blisters around mouth and chin ( Nat Mur Nat-mur.) Pain in maxillary joint.
Gums and teeth
Teeth feel loose and long; gums sore
Tongue
Tongue red and cracked; Coated, except red triangular space at the tip; dry and red at edges
≡ more ...