Toxicodendron Radicans, Poison-ivy, Rhus, Rus tox, Rhustox, Rustox, Rhus Toxicodendron, Rhus Toxicodedron, Rhus-t.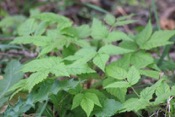 Have you ever used Rhus Tox? Yes No


Below are the main rubriks (i.e strongest indications or symptoms) of Rhus Tox in traditional homeopathic usage, not approved by the FDA.
MOUTH
Gums and teeth
Toothache as from excoriation, or with tearings, shootings, jerkings, digging, and tingling, frequently at night, or agg. in open air and amel. by external heat (and in warm room), sometimes also in consequence of a chill.
Looseness of teeth.
Teeth feel elongated.
Looseness of lower incisors, cannot bite with them.
Fetid exhalation, from carious teeth.
Burning pain in gums as from excoriation, also at night.
Saliva
Dryness of mouth with violent thirst.
Copious accumulation of saliva in mouth.
A yellow, and sometimes also a sanguineous, saliva flows from mouth at night.
While sitting asleep in afternoon saliva runs from mouth.
In morning in bed mouth full of salt water.
Copious accumulation of viscid mucus in mouth and throat, with frequent expectoration.
Tongue
In morning mucus and tongue are salt.
Tongue dry, red or brownish, and cracked; triangular red tip; yellowish-white at root.
Tongue white; often on one side.
Sensation as if tongue covered with a skin.
Taste
Offensive smell from mouth.
≡ more ...