Toxicodendron Radicans, Poison-ivy, Rhus, Rus tox, Rhustox, Rustox, Rhus Toxicodendron, Rhus Toxicodedron, Rhus-t.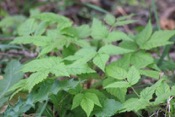 Have you ever used Rhus Tox? Yes No


Below are the main rubriks (i.e strongest indications or symptoms) of Rhus Tox in traditional homeopathic usage, not approved by the FDA.
MOUTH
Mouth
Mouth dry, with much thirst.
Putrid breath.
Teeth
Painful, with stinging at root of nose, extending to malar bones.
Gums and teeth
Teeth feel too long and too lose, feel as if sleep.
Jumping shooting, as if teeth were being torn out; or slow pricking, throbbing or tearing, extending into jaws and temples; face sore; worse at night, from cold, from vexation, better from external heat; crusty caries.
Tongue dry, red, cracked; has a triangular red tip; white, often on one side; yellowish; covered with brown mucus; takes imprint of teeth.
Saliva
Saliva bloody; runs out of mouth during sleep.
Much tough mucus in mouth and throat.
Taste
Taste putrid mornings and after eating; metallic; food, especially bread, tastes bitter.
≡ more ...