Toxicodendron Radicans, Poison-ivy, Rhus, Rus tox, Rhustox, Rustox, Rhus Toxicodendron, Rhus Toxicodedron, Rhus-t.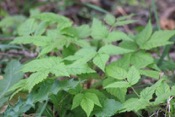 Have you ever used Rhus Tox? Yes No


Below are the main rubriks (i.e strongest indications or symptoms) of Rhus Tox in traditional homeopathic usage, not approved by the FDA.
NOSE
Nose
Redness of point of nose, with pain as from excoriation on touching the part.
Hot swelling of the nose.
Breath seems so hot it burns the nostrils.
Dryness of the nose.
Discharge of greenish fetid pus from nose.
Epistaxis also at night and on stooping or hawking; blood dark; scabs about nares.
Discharge
Frequent violent and almost spasmodic sneezing.
Abundant discharge of mucus from nose, without coryza.
≡ more ...