Toxicodendron Radicans, Poison-ivy, Rhus, Rus tox, Rhustox, Rustox, Rhus Toxicodendron, Rhus Toxicodedron, Rhus-t.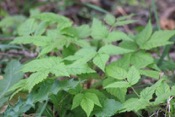 Have you ever used Rhus Tox? Yes No


Below are the main rubriks (i.e strongest indications or symptoms) of Rhus Tox in traditional homeopathic usage, not approved by the FDA.
NOSE
Nose
Loss of smell.
Epistaxis of coagulated blood, worse at night and when stooping, at stool, or from exertion; also in typhus, with some relief.
Discharge from the nose; of thick, yellow mucus; of green, offensive pus; of yellow ichor, with swollen cervical glands.
Fever-blisters and crusts under nose.
Top of nose red and sensitive; nose sore internally.
Puffiness of nose.
Discharge
Spasmodic sneezing.
≡ more ...