Toxicodendron Radicans, Poison-ivy, Rhus, Rus tox, Rhustox, Rustox, Rhus Toxicodendron, Rhus Toxicodedron, Rhus-t.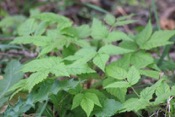 Have you ever used Rhus Tox? Yes No


Below are the main rubriks (i.e strongest indications or symptoms) of Rhus Tox in traditional homeopathic usage, not approved by the FDA.
NOSE
Nose
Swelling of the nose, ears, and neck,
The tip of the nose is red and painful to touch, as if it would suppurate (after eight days),
Nose pointed for three days,
Nosebleed on hawking and clearing the throat,
Frequent nosebleed, almost only on stooping,
Nosebleed in the morning (after forty hours),
Nosebleed at night (after four hours),
Nosebleed,
(Nose at times obstructed as in dry catarrh, less in the house, better in the open air),
Nose dry,
Sensation of hardness and swelling below the nose, that disappeared when touched,
Hot burning beneath the left nostril, so that the breath seemed to come out of it hot, that disappeared in the open air,
Tension beneath the right nostril,
Sensation of soreness in the nostrils,
Nose feels sore, as if abraded (after thirty-six hours),
Sore feeling in the left nostril (after thirty-six hours),
Sharp pain from the nose, extending into the cheek-bones,
Discharge
Median edge of right nostril inflamed, without coryza, at 7 A.M.; a tough and irritable pimple formed at the upper part, which became incrusted next morning (after fifteen days),
Frequent very violent, almost spasmodic sneezing,
Violent sneezing (after four hours),
Sneezing (soon),
Before 3 P.M., repeated sneezing, with fluent coryza, during the siesta (nineteenth day),
Large quantities of nasal mucus run involuntarily from the nose, as in the most severe coryza, although he has no coryza, in the morning, after rising from bed,
≡ more ...