Toxicodendron Radicans, Poison-ivy, Rhus, Rus tox, Rhustox, Rustox, Rhus Toxicodendron, Rhus Toxicodedron, Rhus-t.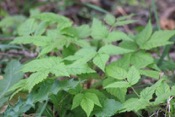 Below are the main rubriks (i.e strongest indications or symptoms) of Rhus Tox in traditional homeopathic usage, not approved by the FDA.


Have you ever used Rhus Tox? Yes No

RECTUM, ANUS, STOOL
Stool
Constipation, sometimes alternating with diarrhoea.
Hard and slow evacuations.
Tenesmus, sometimes with nausea, and tearing or pinchings in abdomen.
Painful tenesmus without stool.
Evacuations loose, bloody, watery, or mucous, frothy, gelatinous, red, or streaked with white and yellow.
Dysentery; jelly-like, odourless stools, more frequent after midnight, preceded and followed by much pain with great restlessness.
Obstinate or dysenteric diarrhoea.
Faeces perfectly white.
Nocturnal diarrhoea, with violent colic, headache, and pains in all limbs (amel. after an evacuation or when lying on abdomen).
Chronic painless diarrhoea, only in morning preceded by marked commotion in the bowels.
Diarrhoea with tearing pains running down back of the leg with every stool.
Involuntary stools when asleep at night.
Short respiration during stool.
Tingling and itching in anus and rectum.
Sense of constriction in rectum, as though one side had grown up.
Protrusion of haemorrhoids from anus after a soft evacuation, with pain as of excoriation.
≡ more ...