Toxicodendron Radicans, Poison-ivy, Rhus, Rus tox, Rhustox, Rustox, Rhus Toxicodendron, Rhus Toxicodedron, Rhus-t.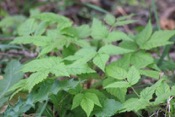 Have you ever used Rhus Tox? Yes No


Below are the main rubriks (i.e strongest indications or symptoms) of Rhus Tox in traditional homeopathic usage, not approved by the FDA.
RECTUM, ANUS, STOOL
Rectum
Diarrhoea of blood, slime, and reddish mucus
Dysentery, with tearing pains down thighs
Stools of cadaverous odor
Frothy, painless stools
Will often abort a beginning suppurative process near the rectum
Dysentery.
Urinary Organs.
Dark, turbid, high-colored, scanty urine, with white sediment
Dysuria, with loss of blood.
≡ more ...