Toxicodendron Radicans, Poison-ivy, Rhus, Rus tox, Rhustox, Rustox, Rhus Toxicodendron, Rhus Toxicodedron, Rhus-t.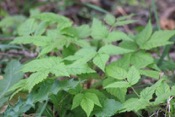 Have you ever used Rhus Tox? Yes No


Below are the main rubriks (i.e strongest indications or symptoms) of Rhus Tox in traditional homeopathic usage, not approved by the FDA.
RECTUM, ANUS, STOOL
Stool
Nightly diarrhoea, with violent pain in abdomen, relieved after stool or while lying prone.
Hemorrhoids sore, blind; protruding after stool, with pressing in rectum, as if everything would come out.
Fissure of anus, with periodical, profuse, bleeding piles.
≡ more ...