Toxicodendron Radicans, Poison-ivy, Rhus, Rus tox, Rhustox, Rustox, Rhus Toxicodendron, Rhus Toxicodedron, Rhus-t.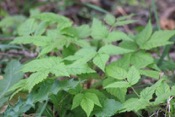 Have you ever used Rhus Tox? Yes No


Below are the main rubriks (i.e strongest indications or symptoms) of Rhus Tox in traditional homeopathic usage, not approved by the FDA.
RECTUM, ANUS, STOOL
Rectum
Painful, sore, protruding blind haemorrhoids after a soft stool (after twenty-four hours),
Pain in the rectum when urinating, at 3.08 P.M. (first day),
Tingling pain felt almost simultaneously in the rectum and the left hip when lying on the left side; the painful tingling was as if from vibrations as rapid as those of some low notes (after eight minutes, ninth day),
Transient pain in the rectum (after one day),
Crawling in the rectum, as from threadworms (after a few hours),
Burning in the rectum before every stool,
Itching deep in the rectum,
Sore pain in the anus when not at stool,
Very painful burning in the anus, soon attended with burning near the extremity of the penis, at 10.30 A.M. (twentieth day),
Smarting and burning in the anus during and after evacuation, at 9.30 A.M. (seventeenth day),
Very severe pricking itching in the anus at three different times when walking, between 3 and 6 P.M., not recurring when at rest (seventeenth day),
Itching pain in the anus, as from haemorrhoids,
Constant urging to stool, with nausea and tearing in the intestines; the desire was frequently ineffectual, but often followed by a scanty watery discharge,
Frequent desire for stool; he could, however, accomplish but little (after sixty-eight hours),
Rectum and anus
RECTUM AND ANUS.
Stool
Diarrhoea.
Diarrhoea, ,
Diarrhoea
the stool seemed chopped,
a large stool, preceded by griping (after forty hours),
Diarrhoea several times an hour for sixty hours (after thirty hours),
Frequent sudden, excessively offensive evacuations, at first thick, afterwards watery, mixed with flatus, with violent griping and digging in the lower abdomen (after one hour and a quarter),
Sudden thin and yellow frothy stools, that are scarcely at all offensive, without previous colic; the first few drops are passed involuntarily, as in paralysis of the sphincter ani (after twenty-four hours),
Faeces loose and dark greenish-brown, followed by erysipelatous redness of the left side of the face, commencing during evacuation and lasting about an hour (thirty-sixth day),
Four evacuations in quick succession (after a few hours),
Three or four stools, almost watery, with much flatulence (after twenty-four hours),
Thin stools several times a day, followed by ineffectual pressure (tenesmus),
Stool thin and tinged with blood; the evacuation preceded by lassitude (after seven days),
Loose and dark-brown stool; the evacuation preceded by pain at the symphysis pubis, and attended with strong burning in the anus and procidentia ani (eighteenth day),
Dark-brown stool, with procidentia ani, at 10 A.M. (twentieth day),
Dark-brown stool, preceded by costiveness (twenty-first day),
Connected, but very soft whitish-yellow stools (after forty-five hours),
(Stool quite white, not too soft, not too hard),
Stools mixed with blood,
(*Stools somewhat bloody),
Stools with mucus, red and yellow, gelatinous and liquid,
Some gelatinous substance in the faeces (twentieth day); this occurred some days since,
The child cries before every stool, afterwards it is quiet,
Gelatinous yellow and white-streaked diarrhoea seven times, without colic (after twenty hours),
Constipation.
During eight years continued constipation, with violent headache, loss of appetite,
Constipation, with continual urging to stool; ineffectual stool, with a great deal of flatulence and rumbling in the abdomen; ineffectual desire for stool immediately after eating (thirty-fifth day); constant urging and straining at stool (forty-fifth day),
Constipation, with dull pain in the right side of the occiput (seventh day),
Costive; has an operation once in twenty-four or forty-eight hours by taking "physic,"
(Constipation), (after three days), ; (second day),
Bowels costive,
The faeces were unaltered until near the close of the inflammatory stage, when a painless, brown, watery diarrhoea set in; there was occasionally a little pain before getting up from stool,
STOOL.
≡ more ...