Toxicodendron Radicans, Poison-ivy, Rhus, Rus tox, Rhustox, Rustox, Rhus Toxicodendron, Rhus Toxicodedron Rhus-t.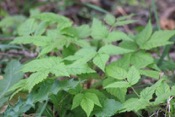 Below are the main rubriks (i.e strongest indications or symptoms) of Rhus Tox in traditional homeopathic usage, not reviewed by the FDA.
SKIN
Skin
Red, swollen; Itching intense
Vesicles, herpes; Urticaria; pemphigus; erysipelas; vesicular suppurative forms
Glands swollen
Cellulitis
Burning eczematous eruptions with tendency to scale formation.
≡ more ...