Toxicodendron Radicans, Poison-ivy, Rhus, Rus tox, Rhustox, Rustox, Rhus Toxicodendron, Rhus Toxicodedron, Rhus-t.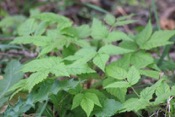 Below are the main rubriks (i.e strongest indications or symptoms) of Rhus Tox in traditional homeopathic usage, not approved by the FDA.


Have you ever used Rhus Tox? Yes No

SKIN
Skin
Vesicular erysipelas where the vesicles are large.
Exanthema on face in general-on chin, face, cheeks, mouth, nose, forehead, causing much burning itching.
Pustulous chilblains.
Tetters in general.
Ulcers burning; with corroding pus; with ichorous pus.
Rash itches a great deal, in scarlet fever, small-pox, &c., with the peculiar restlessness.
Phlegmonous erysipelas, esp. where the erysipelas begins in the ankle, and moves gradually up the leg, running up in the deeper tissues, no fever.
Itching over whole body, chiefly in hairy parts.
Stinging and tingling on skin, burning after scratching.
Humidity of skin.
Hardness of skin with thickening.
Swelling (hard) of affected parts.
Erysipelatous inflammations.
Nettle-rash.
Eruptions, generally vesicular, scabby, with burning itching, appearing esp. in spring and autumn.
Eruption of small pustules on a red bottom, like zona.
Gangrenous ulcers resulting from small vesicles, with violent fever.
Petechiae, with great weakness, amounting to entire prostration.
Black pustules.
Herpes, sometimes alternately with asthmatic sufferings and dysenteric looseness.
Warts, esp. on hands and fingers; large jagged, often pedunculated, exuding moisture and bleeding readily.
Rhagades on hands.
Panaritium.
Tingling or shooting or else burning smarting in ulcers, esp. at night.
Chilblains.
Corns on feet, with burning sensation, and pain as of excoriation.
≡ more ...