Toxicodendron Radicans, Poison-ivy, Rhus, Rus tox, Rhustox, Rustox, Rhus Toxicodendron, Rhus Toxicodedron, Rhus-t.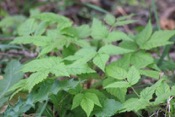 Have you ever used Rhus Tox? Yes No


Below are the main rubriks (i.e strongest indications or symptoms) of Rhus Tox in traditional homeopathic usage, not approved by the FDA.
SKIN
Skin
Intolerable itching of skin; red, measly rash all lover.
Itching all over, worse on hairy parts; after scratching, burning.
Urticaria from getting wet; during rheumatism; with chills and fever; worse in cold air.
Eruption herpetic; with incessant itching, burning and tingling; alternates with pains in chest and dysenteric stools.
Eczema surface raw, excoriated; thick crusts, oozing and offensive.
Vesicles upon a red patch or with a spreading, red, erysipelatous base; internal pruritus followed by pains in the thighs after scratching.
Pustulous eruption.
Pemphigus, each bulla with a red areola.
Erysipelas.
Erysipelatous inflammations.
Zona.
Hardness of the skin, with thickening.
Carbuncles, bluish, gangrenous.
Scarlatina miliaria; rash dark, fever high; drowsiness and restlessness.
≡ more ...