Toxicodendron Radicans, Poison-ivy, Rhus, Rus tox, Rhustox, Rustox, Rhus Toxicodendron, Rhus Toxicodedron, Rhus-t.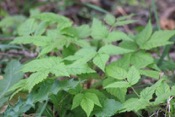 Have you ever used Rhus Tox? Yes No


Below are the main rubriks (i.e strongest indications or symptoms) of Rhus Tox in traditional homeopathic usage, not approved by the FDA.
THROAT
Throat
Sensation of dryness of throat.
Sore throat, as if caused by internal swelling, with pain as from a bruise even when speaking, and with pressure and shootings during deglutition.
Sensation in throat as if something were torn out of it.
(Sore throat after exertion in speaking.).
Difficulty in deglutition and pain in swallowing solid food as from contraction of throat and oesophagus; difficult swallowing of liquids as from paralysis.
Brandy causes an extraordinary burning sensation in throat.
Copious accumulation of mucus in throat, with frequent hawking in morning.
Pulsative pain in bottom of gullet.
≡ more ...