Toxicodendron Radicans, Poison-ivy, Rhus, Rus tox, Rhustox, Rustox, Rhus Toxicodendron, Rhus Toxicodedron, Rhus-t.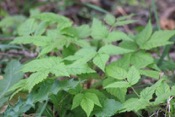 Below are the main rubriks (i.e strongest indications or symptoms) of Rhus Tox in traditional homeopathic usage, not approved by the FDA.


Have you ever used Rhus Tox? Yes No

THROAT
Throat
Sore, feels stiff, after straining the throat.
Tonsil (right) covered with yellow membrane.
Sticking or stinging pain in tonsils, worse when beginning to swallow.
Feeling of swelling, with bruised pain; erysipelatous inflammation; parotids swollen; cellulitis of the neck; drowsiness.
Difficult swallowing of solids, as from contraction.
OEsophagitis, especially after corrosive substances.
Larynx
Hoarse from overstraining the voice.
Hoarseness and roughness in larynx, with roughness and soreness in chest.
Hot air arises from trachea.
Cold sensation in larynx, when breathing.
≡ more ...