Toxicodendron Radicans, Poison-ivy, Rhus, Rus tox, Rhustox, Rustox, Rhus Toxicodendron, Rhus Toxicodedron, Rhus-t.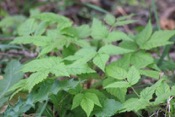 Below are the main rubriks (i.e strongest indications or symptoms) of Rhus Tox in traditional homeopathic usage, not approved by the FDA.


Have you ever used Rhus Tox? Yes No

VERTIGO, DIZZINESS
Vertigo
Confusion and Vertigo.
Excessive vertigo on lying down, with fear that he would die (after ten hours),
Very violent vertigo,
Vertigo,
Vertigo and dulness of the head,
Vertigo while sitting, as if he were elevated,
Vertigo soon after eating,
Vertigo, as if everything were whirling around with her; worse while walking and standing, also when sitting, but less severe (but not at all while lying down),
Reeling, tottering, and staggering of the body while walking, without dizziness of the head,
Reeling and staggering while walking, without vertigo,
Dizzy while walking, so that he did not see men immediately in front of him,
Dizziness of the head,
Dizzy, as if she would fall forward, while walking,
Quite dizzy in the morning on rising; he is scarcely able to keep on his feet,
Dizziness in the head in the morning on waking, while in bed, disappearing after rising,
Dizziness, in the morning,
More or less dizziness,
Dulness of the head, as if intoxicated, while sitting; on rising, such dizziness that it seemed as if she were going to fall forward and backward,
Sudden weakness in the head and vertigo, so that he thought he would fall forward, while standing after dinner,
Sensation as if something were turning around in the head, though without vertigo, while walking in the open air,
≡ more ...