Rumex Obtusifolius - Abdomen symptoms
Dock leaf, RUMEX OBTUSIFOLIUS, Lapathum, Rumx-o.
Not available to buy through our store.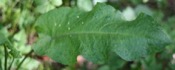 Have you ever used Rumex Obtusifolius? Yes No


< < Rumex Obtusifolius- main page

We have no Materia Medica information for Rumex Obtusifolius
ABDOMEN
Abdomen
Feeling of distension in l. hypochondrium.
Drawings in l. hypochondrium.
Pain in kidneys for five hours, with pressure from without inwards.
Flatus
Extension and pressure, esp. in morning, with prostration and emission of flatulence.
Stomach
Pain in pit of stomach, with loss of appetite and weight in stomach.

≡ more ...

Rumex Obtusifolius is not available to buy over the counter.