Dock leaf, RUMEX OBTUSIFOLIUS, Lapathum, Rumx-o.
Not available to buy through our store.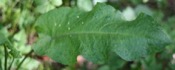 Have you ever used Rumex Obtusifolius? Yes No


< < Rumex Obtusifolius- main page

We have no Materia Medica information for Rumex Obtusifolius
GENERAL
General
Lapathum Sylvestre fol. minus acutum (Gerarde). Rumex obtusifolius. Common Dock. N. O. Polygonaceae. Tincture of fresh root.

Epistaxis. Headache. Kidneys, pain in. Leucorrhoea. Uterus, atony of.

Lapathum is the old name of the Docks now generally named Rumex Acetosa Rumex. The word is of Greek origin and signifies, according to Gerarde, "to soften, ease, or purge the belly," and the name was given to "herbs used in pottage and medicine, very well known to have the power of cleansing." Lapath. was proved by Widenhorn. It produced some rather severe headaches and nosebleed. (Hansen says it is indicated in epistaxis following headache.) Weight in stomach. Pain in kidneys with pressure from without inwards. Weak feeling in genital parts.

leucorrhoea with uterine bearing down and pain in kidneys.

Rumex Obtusifolius is not available to buy over the counter.